Doug Bean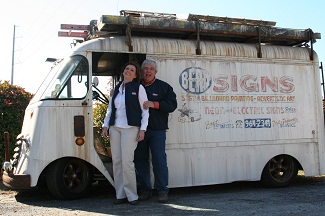 President
Shown here with his lovely wife Angie and his favorite old hotrod (a 1948 Grumman Olson Kurbside Signpainter's truck*), Doug comes from a long line of artistic and creative people. He's drawn and lettered for as long as he can remember. He recalls being the kid who made school hallway posters and decorations as early as the 3rd grade. He began making sign reproductions as a young teenager because like most boys, he wanted signs for his room. His choice was to aquire them through less-than-honest means, or make them himself. Knowing how steadfast his parents were about doing right, he decided to make his own.
A hobby turned into a passion. He mastered hand lettering techniques by his early twenties by painting and lettering local race cars and boats, then commercial trucks and signs. Doug's fond of telling of Cale Yarborough's win in the 1983 Daytona 500 in a back-up car Doug lettered at the track.
As a signmaker and graphic artist his reputation grew and with the help of his late wife Mary the freelance fun became the full-time family business. As the Company thrived so did it's reputation for creativity and innovation, and many design awards and accolades have followed. Now, roughly 30 years later, his firm with every project still under his watchful eye, is considered by many to be one of the best in the southeast. Doug certainly agrees, but is quick to recognize how and why it's happened. "It's my staff...I'd put them up against the best in the world...they love what they do and there are none better at it".
Doug's passion and gratitude for what he does hasn't faded at all either. "I really enjoy coming to work most everyday. Not only do I get to hang out with some really talented folks, but I get to design, draw and make things for a living. And I do it for perhaps the finest and friendliest people in the world: small business people. I have to say the friendships and associations I've been so blessed to develop over the years are really the best part of the whole experience. I think if GOD is so kind as to let me, I'll do it for another 30 years!"
* A tribute to his vocation, avocations and passions, the "old" truck was restored and heavily customized by the crew at Doug Bean Signs. For more details about it and other off-the-wall stuff we've done, click here.