Greg Seamands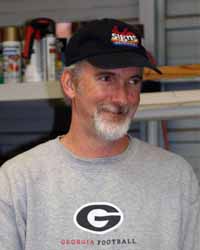 Lead Artist, wood sign craftsman, quality control and safety coordinator.
Greg joined DBSI in April of 1991 and may be the most talented on our staff. A true artist, Greg is an accomplished Civil War illustrator and avid historian.
Greg is in charge of building and painting sandblasted, carved and multi-component wood and synthetic, and highly specialized signs. He also serves as our Company Safety Coordinator and Quality Control Supervisor.